In the highly competitive beauty industry, effective advertising is crucial for capturing the attention of potential customers and driving conversions. Facebook, with its vast user base and powerful advertising capabilities, has become a go-to platform for beauty brands to showcase their products.
In this article, we'll explore 11 high-converting Facebook ads for beauty brands. From captivating visuals to persuasive copy and strategic targeting, these ads have proven their effectiveness in generating interest, engagement, and sales. Discover the strategies employed by leading beauty brands to create compelling Facebook ads that convert and inspire your own advertising campaigns.
11 Examples of Facebook Ads Used by the World's Top Beauty Brands
When it comes to promoting beauty products on Facebook, the world's top brands have mastered the art of captivating their audience with compelling ad campaigns. These brands understand the power of visual storytelling and the importance of showcasing the transformative qualities of their products. 
From skincare to makeup, they utilize stunning visuals, influencer collaborations, and persuasive copy to engage users and drive conversions. Whether it's Sephora's interactive quizzes, MAC Cosmetics' behind-the-scenes glimpses, or Glossier's user-generated content, these 11 Facebook beauty ad examples demonstrate the creativity and effectiveness of top brands in capturing the attention and loyalty of beauty enthusiasts worldwide.
1. Maybelline New York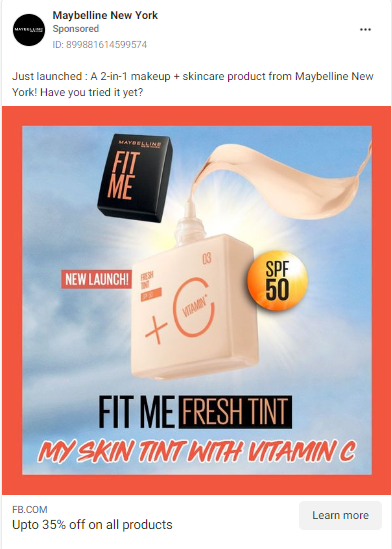 Why This Ad?
The ad introduces Maybelline New York's latest 2-in-1 makeup + skincare product, creating awareness of its new launch.

The creative highlights the main qualities of the product, showcasing its dual functionality for makeup and skincare.

The ad engages the audience by asking if they have tried the new product, encouraging curiosity and potential trial.
About Maybelline New York
Maybelline New York is a renowned cosmetics brand known for its extensive range of high-quality products. With a rich history spanning over a century, Maybelline has become a global leader in the beauty industry. Their diverse line of makeup, including foundations, mascaras, lipsticks, and eyeshadows, caters to a wide range of skin tones and preferences. Maybelline's branding embodies a sense of modernity, empowerment, and inclusivity, consistently inspiring individuals to embrace their unique beauty. Through innovative formulations and iconic advertising campaigns, Maybelline New York continues to redefine beauty standards and empower individuals worldwide.
2. Chanel
Why This Ad?
The ad showcases the CHANEL LE VERNIS collection, featuring 24 vibrant hues, emphasizing the variety and range of options available.

The creative emphasizes that each LE VERNIS shade represents the avant-garde and free culture of the CHANEL brand, enhancing its overall value.

The ad directs viewers to chanel.com to discover the entire collection, encouraging engagement and exploration of the diverse nail color offerings.
About Chanel
Chanel is an iconic brand renowned for its exquisite cosmetics and timeless elegance. With a rich heritage dating back to 1910, Chanel has become synonymous with luxury and sophistication. Their cosmetics line encompasses a wide range of products, from exquisite fragrances to high-quality skincare and makeup. Chanel's branding exudes class and refinement with its instantly recognizable logo and sleek packaging. The brand's attention to detail and commitment to excellence have made Chanel cosmetics a symbol of prestige and glamour, captivating beauty enthusiasts worldwide.
3. L'Oréal Paris
Why This Ad?
The ad creatively showcases the L'Oréal Men Expert POWER AGE ROUTINE, featuring the Serum, Moisturizer, and Eye Care products in an engaging manner.

The carousel ad format efficiently advertises multiple products within a single ad, providing a comprehensive solution for fighting fine lines and achieving smooth skin.

The caption highlights the key ingredient, Hyaluronic Acid, adding to the appeal and effectiveness of the skincare routine.
About L'Oréal Paris
L'Oréal Paris, a renowned cosmetics brand, has established itself as a global leader in the beauty industry. With a rich history spanning decades, L'Oréal Paris has captivated consumers worldwide with its innovative products and unwavering commitment to quality. The brand's extensive range includes makeup, skincare, haircare, and fragrances, catering to diverse beauty needs. Known for its iconic slogan, "Because you're worth it," L'Oréal Paris embodies empowerment and self-expression. Its extensive portfolio of celebrity ambassadors further enhances its aspirational image, making L'Oréal Paris a symbol of beauty, sophistication, and timeless elegance.
4. Sephora
Why This Ad?
The Sephora ad promotes must-have skincare products at affordable prices, appealing to budget-conscious consumers.

The creative showcases four different products in a single ad, offering a diverse range of options to cater to various skincare needs.

The ad highlights the collection's low prices, enticing customers with the opportunity to acquire multiple skincare items without breaking the bank.
About Sephora
Sephora, a leading cosmetics retailer, has established itself as an industry icon with its exceptional branding. Offering a vast selection of high-quality beauty products, Sephora has become synonymous with innovation and style. Their sleek black and white logo exudes sophistication, while their inclusive approach to beauty caters to diverse needs. Sephora's brick-and-mortar stores create immersive experiences with knowledgeable staff and interactive displays. Their online platform provides seamless shopping and beauty resources. With a commitment to empowering customers and embracing self-expression, Sephora continues to redefine the beauty industry through its iconic brand and exceptional cosmetics.
5. Bobbi Brown Cosmetics
Why This Ad?
The ad highlights the value proposition of the NEW Dual-Ended Long-Wear Cream Shadow Stick, offering 4 eye looks in a convenient flip design.

The ad emphasizes the product's 24-hour wear and zero guesswork, conveying a clear and simple message about its performance and ease of use.

The ad utilizes a video format to demonstrate the versatility of the product, showcasing four different eye looks achievable with a single product.
About Bobbi Brown Cosmetics
Bobbi Brown Cosmetics is a renowned brand that has carved its niche in the beauty industry. With a commitment to natural and effortless beauty, Bobbi Brown offers a range of high-quality cosmetics that enhance individuality. The brand's ethos revolves around empowering women and celebrating diversity. Bobbi Brown's sleek and minimalist packaging reflects its dedication to simplicity and elegance. Known for their signature "no-makeup makeup" look, the brand's products prioritize enhancing natural features and promoting self-confidence. Bobbi Brown Cosmetics continues to inspire and redefine beauty standards with its inclusive and empowering branding.
6. Armani Beauty
Why This Ad?
The ad features the Armani Beauty Luminous Silk Glow Blush, showcasing a range of shades and highlighting multiple products in one ad.

The creative highlights the silky powder formula that provides a natural flush of color and a subtle, glowing skin finish.

The ad employs a simple but captivating color combination, enhancing the visual appeal and drawing attention to the product's qualities.
About Armani Beauty
Armani Beauty is a renowned cosmetics brand known for its sophisticated and luxurious products. With a strong emphasis on elegance and timeless beauty, Armani Beauty has become a symbol of prestige and refinement. The brand's cosmetics range includes high-quality foundations, lipsticks, eyeshadows, and skincare products that combine innovative formulas with exquisite packaging. Armani Beauty's branding effortlessly captures the essence of sophistication, attracting discerning customers who appreciate the fusion of artistry and science. It represents a harmonious blend of luxury, style, and superior quality, making it a coveted choice among beauty enthusiasts worldwide.
7. M·A·C Cosmetics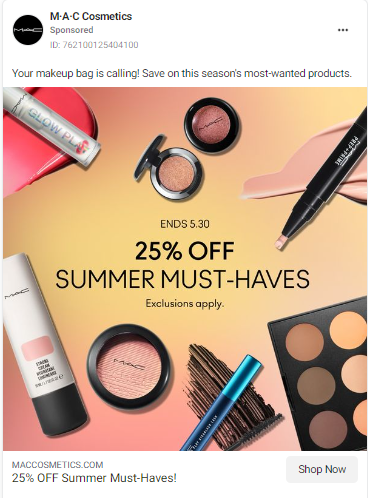 Why This Ad?
The ad prominently displays the offer details, effectively communicating savings on the most-wanted products from MAC Cosmetics.

The creative showcases the featured products in a visually appealing and appropriate manner, capturing the attention of the audience.

The ad's caption, "Your makeup bag is calling!" creates a sense of urgency and personal connection, enticing viewers to take advantage of the offer.
About M·A·C Cosmetics
M·A·C Cosmetics is a renowned beauty brand known for its exceptional quality and diverse product range. With a rich history spanning over three decades, M·A·C has successfully established itself as a trendsetter in the cosmetics industry. Their commitment to inclusivity and diversity is evident in their extensive shade range, catering to various skin tones. M·A·C's iconic black packaging and sleek aesthetic exude sophistication and professionalism, making it a favorite among makeup enthusiasts and professionals worldwide. Their collaborations with industry influencers further solidify M·A·C's position as a leading brand in the beauty industry.
8. Urban Decay Cosmetics
Why This Ad?
The ad focuses on Urban Decay's 24/7 INKS, showcasing it as the easiest liquid liner to use, capturing viewers' attention.

The creative highlights the product's easy grip and ultra-sharp precision tip, emphasizing its perfect qualities for effortless application.

The ad engages the audience by presenting the product in a video format, allowing viewers to visualize and connect with the product's features in an engaging way.
About Urban Decay Cosmetics
Urban Decay Cosmetics is a renowned brand that has made its mark in the beauty industry. With its edgy and rebellious spirit, Urban Decay has become synonymous with bold and daring makeup. Their wide range of products, from vibrant eyeshadow palettes to long-lasting lipsticks, caters to individuals who embrace their unique style. The brand's distinct branding, characterized by dark, grungy aesthetics and provocative product names, appeals to those seeking to make a statement. Urban Decay's commitment to cruelty-free and vegan formulations further amplifies its appeal, making it a favorite among makeup enthusiasts worldwide.
9. Glossier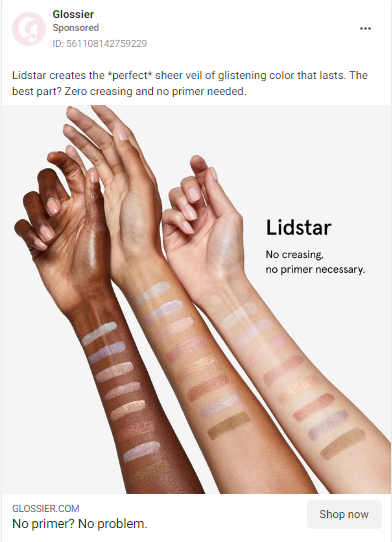 Why This Ad?
The ad showcases Glossier's Lidstar product on multiple skin tones, presenting a diverse and inclusive representation of their target audience.

The creative highlights the main qualities of Lidstar, emphasizing its ability to create a perfect sheer veil of glistening color that lasts, without any creasing.

The ad also emphasizes the convenience of using Lidstar by stating that no primer is needed, making it an easy and hassle-free option for customers.
About Glossier
Glossier is a renowned cosmetics brand that has revolutionized the beauty industry with its minimalist approach and emphasis on natural beauty. With a loyal and dedicated following, Glossier's products are designed to enhance rather than mask individual features. The brand's aesthetic is clean, fresh, and effortlessly chic, reflecting its commitment to simplicity and authenticity. Glossier's branding is characterized by its pastel hues, minimalistic packaging, and inclusive messaging, empowering customers to embrace their unique selves. Through its innovative products and relatable branding, Glossier has become a symbol of modern beauty and self-expression.
10. Lancôme
Why This Ad?
The ad effectively communicates the offer details, highlighting the opportunity to get a beach bag of summer must-haves for just $49 with any qualifying purchase.

The creative showcases the products in an appropriate manner, using captivating color combinations that enhance their appeal.

The ad creates a sense of urgency, urging viewers not to miss out on the opportunity, thus encouraging prompt action.
About Lancôme
Lancôme, a renowned brand in the cosmetics industry, exudes elegance and sophistication. With a rich heritage spanning over eight decades, Lancôme has established itself as a symbol of luxury and innovation. Their extensive range of skincare, makeup, and fragrance products is crafted with meticulous attention to detail, offering exceptional quality and results. Lancôme's iconic rose symbolizes femininity and beauty, capturing the essence of its brand. Through their timeless packaging, exquisite formulations, and captivating marketing campaigns, Lancôme continues to captivate and empower women worldwide, epitomizing the epitome of glamour and refinement.
11. Revlon
Why This Ad?
The ad features a carousel format, showcasing various Revlon products like lip color, eyeliner, and foundation in an appealing and interactive manner.

The ad conveys the message of "no compromise" with Revlon's ColorStay line, emphasizing that these products keep your look intact without budging.

The ad creatively presents the makeup products, potentially utilizing video formats to provide a dynamic and captivating experience, highlighting their effectiveness.
About Revlon
Revlon is a renowned cosmetics brand that has made a lasting impact in the beauty industry. With a rich history spanning decades, Revlon has become synonymous with quality and innovation. Its diverse range of products, including makeup, skincare, and fragrances, caters to a wide audience. Revlon's branding exudes elegance and sophistication, appealing to both modern trends and timeless beauty. Its iconic red lipstick and striking advertisements have become iconic symbols of empowerment and self-expression. Revlon continues to captivate consumers with its commitment to quality, trendsetting creations, and empowering brand image.
Let ROI Minds Help You with Facebook Ads for Beauty Products
Facebook has become a powerful platform for businesses, and the beauty industry is no exception. However, navigating the complexities of Facebook advertising can be overwhelming without the right knowledge and experience. That's where ROI Minds steps in. We have a team of seasoned professionals who specialize in Facebook ads, especially for beauty products.
When you partner with ROI Minds, we start by understanding your unique business objectives, target audience, and key selling points. This allows us to create customized ad campaigns that resonate with your audience and drive conversions. Whether you're promoting skincare, makeup, haircare, or any other beauty product, we tailor our strategies to align with your specific goals.
Generated 3x ROAS in 1 month with Facebook Ads for a Beauty Products Store
Our team leverages advanced targeting options on Facebook to reach the right audience for your beauty products. We identify key demographics, interests, and behaviors that align with your target market. By optimizing your ad campaigns and targeting the most relevant audience, we maximize your ad spend and ensure that your products are seen by the people who are most likely to convert.
In addition to precise targeting, we also focus on compelling ad creatives. Our team creates visually appealing and persuasive ad designs that showcase the unique features and benefits of your beauty products. We understand the importance of engaging visuals, persuasive copy, and clear calls to action to capture the attention of Facebook users and encourage them to take action.
ROI Minds also emphasizes the importance of ongoing monitoring and optimization. We continuously analyze the performance of your Facebook ad campaigns, making data-driven adjustments to improve results. By closely monitoring key metrics like click-through rates, conversions, and cost per acquisition, we ensure that your advertising efforts remain effective and efficient.
Let ROI Minds be your trusted partner in navigating the world of Facebook ads for beauty products. With our expertise, tailored strategies, and commitment to results, we can help you achieve your advertising goals and drive growth in your beauty business. Contact us today, and let's take your Facebook advertising to the next level!
Wrap Up
In conclusion, the power of effective Facebook ads for beauty products cannot be underestimated. The top beauty brands have mastered the art of creating high-converting ads that capture the attention of their target audience and drive meaningful results. By analyzing the strategies and techniques employed by these successful brands, we can gain valuable insights into what makes a Facebook ad campaign successful in the beauty industry.
The key takeaway from these 11 high-converting Facebook ads is the importance of understanding your target audience and tailoring your messaging and visuals to resonate with them. It's essential to highlight the unique features and benefits of your beauty products in a compelling and visually appealing way. Additionally, utilizing social proof, such as customer testimonials and before-and-after images, can help build trust and credibility with your audience.
Furthermore, testing and optimization play a crucial role in maximizing the effectiveness of Facebook ads. Constantly monitoring and analyzing the performance of your campaigns allows you to make data-driven adjustments and refine your strategies to achieve better results over time.
By implementing these proven tactics and staying up to date with the latest trends and best practices in Facebook advertising for beauty products, you can position your brand for success and drive high conversions. Remember, success in Facebook advertising requires a combination of creativity, audience understanding, and continuous improvement. So, take inspiration from these top beauty brands, experiment, and find what works best for your unique business and audience.
FAQs
Q1: How can I make my Facebook ads for beauty products more visually appealing?
To create visually appealing ads, utilize high-quality images or videos that showcase the product in action or highlight its unique features. Use eye-catching colors, attractive models, and professional photography to capture the audience's attention.
Q2: How important is it to target a specific audience for my beauty product Facebook ads?
Targeting a specific audience is crucial for the success of your Facebook ads. Understanding your target demographic allows you to tailor your messaging, visuals, and offers to resonate with the right audience, increasing the likelihood of conversions and maximizing your return on investment.
Q3: How can I build trust with my audience through Facebook ads for beauty products?
Incorporate social proof elements such as customer testimonials, before-and-after images, or influencer endorsements into your ads. This helps build trust and credibility, assuring potential customers that your products deliver the promised results.
Q4: Is it necessary to constantly test and optimize my Facebook ad campaigns?
Yes, testing and optimization are essential to improving the performance of your Facebook ads. Continuously monitor key metrics, such as click-through rates and conversions, and make data-driven adjustments to refine your targeting, ad creatives, and messaging to achieve better results over time.
Q5: How can I stand out from other beauty brands in a competitive Facebook advertising landscape?
Differentiate your brand by highlighting unique selling points, such as organic ingredients, cruelty-free certification, or innovative formulations. Focus on creating compelling ad copy that communicates the value and benefits of your products and consistently delivers a strong brand message to establish a distinct identity in the minds of your target audience.