6

min read
Before covering the topic of how to use feed rules, let's understand what feeding rules are. 
Feed rules are just a rule that applies in feeds for automatic work. If you know how to use the feed rule then definitely you are saving a lot of time to resolve diagnosis issues in the merchant center. Instead of repetitive work on merchant diagnosis issues, use feed rules to optimize data automatically.
Where to use feed rules?
It all depends on you, which category or type you choose. You can use feed rules based on the issue you are facing in the diagnosis section of the merchant.
Like you notice that commonly gender and color etc are issues found in product diagnosis. You can resolve these types of issues automatically by using feed rules.
Feed rule is used for easily modifying your product data, removing errors, and making feed level modification in the Google merchant center directly.
Firstly, you have to analyze the merchant diagnosis. What issue we need to resolve by using the feed rule.
For example, you find that you get an issue regarding age group. Instead of the female category filled in this section, you see that women's category is filled. Now you know what you want to change. Women is changed to female because female is acceptable but not women.
So Let's get started
Firstly, go to the merchant account and select your account (in which account you want to use or apply the feed rule). 
Then go to the feed section under the product tab and select your primary feed in which feed you want to apply the rule. 
The next step is to select the primary feed. After selecting a primary feed, click on create new or plus button and select the age group.
After that, you have two options, first one is where you take the data, which is known as a data source, and the second one is what you want to change, that's called a modification.
In the Data Source section, you have to select the attribution by clicking on the "set to" box. After clicking, you have to choose the attribution – by age group under your selected feed then click on the "ok" button.
After that, click on the Modification section and click on standardization. Then you have to add values (what you want to change and replacement value), as can see in the image below (Original value and replace value):
Now you have to edit within original value with men and women and replace them with an adult.
You see the results appear at the right-hand side column, changes have not occurred yet on your account. It shows the results that you have done a few seconds ago. If you were sure about the changes that appear then click on save as draft.
Now, you have to click on the test changes tab so that before changes happen test changes can preview the whole diagnosis whether the feed rule is working fine or not. If all is good then click on the apply button. But if you get some issues during testing then check the values you added, re-correct them and test again with new changes.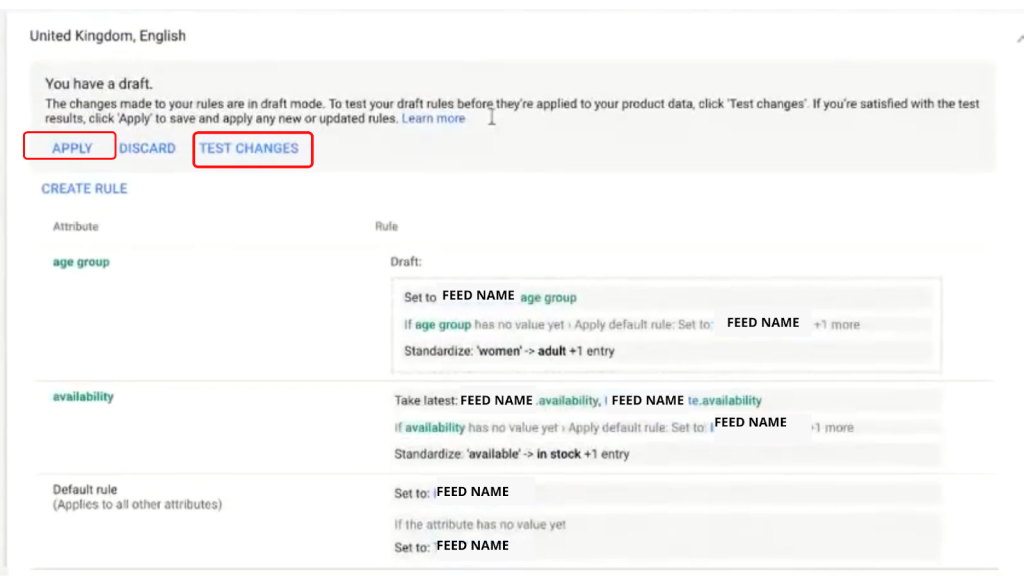 Remember – always test first before applying. The test button conforms to the results you get in advance.
After applying, changes tend to take place in your account. But it takes a little bit of time before the full changes are made.
Now you know how to use feed rules. Indeed, you will save a lot of time by using this feed rule.
Above feed rule is just one example. You can use the feed rule in multiple ways. It's easy to use but before applying the feed rule, you must know about what changes you want. After answering just this one question, all things are easy to set up.
Some places where you use feed rules-
Edit and replace attribute values like age and gender.
Add prepend and append in your product title. Like you can add a prefix or suffix on titles according to the condition you apply.
You can add promotion on your products automatically by feed rule.
You can categorize your product title name in sequence like – brand + size + title + color etc.
You can use the rule for the custom labels. Like you can automatically custom label your products by feed rules.
Some important information you need to consider before using feed rules.
It is good for simple modification data.
Automatically applies whenever a new feed is uploaded.
Large feed takes up to 1 hour or more to proceed with the data.
Rules are applied on the merchant center Id level individually, not on the merchant account level.
You can't remove products by feed rule but you can exclude them.
CONCLUSION
Feed rule is just a feature you can get in your merchant center. But how to use it, it's up to you. After applying the feed rule, you are saving a lot of time. Always remember one thing, before applying any feed rule always test first. A test can show the result in advance before applying the feed rule.