Get 3x Plus ROAS with Proper Google Shopping Campaign Structure
6

min read
When we think about E-Commerce store Google ad campaign structure then we get confused about what structure we will opt to set up the shopping campaign.
Most of the marketer didn't go with the optimised campaign structure but they went with to set up the standard shopping campaign.
Structure of Google shopping campaigns is important because we have limited control over search terms for product adverts.
The optimised shopping campaign structure is as important as shopping feed optimization. Most of the marketer do not know about how-to structure the optimized Shopping campaign that will help in getting the 3X Plus ROAS.
In this eCommerce shopping campaign structure setup, we are going to explain different types of Google Shopping campaign structure that you can set up to make your E-commerce store profitable. 
1. A Standard Way – One Shopping Campaign with one Ad group
It is a standard approach to setting up an Ecommerce account by creating one campaign and adding one Ad Group, and then divide your product groups out.
Pros about using this structure
Easy to set up
Less time to manage
Cons about using this structure
Hard to Optimise search terms by using negative keywords
Bid Adjustment on the basis of brand terms or high intent terms is not possible.
Not possible to control search queries at the product group level
Some of the products will not get as much exposure.
2. Setup Two Campaigns On the basis of Campaign Priorities (High, Medium, Low)
The idea behind setting up the two shopping campaigns using campaign priorities is that you should not miss the opportunity. While setting up the High, Medium and Low priorities shopping campaign you can set the bid on the basis of their priorities.
Google gives the preference in the auction to campaign in the account as per campaign priority or bid. If the budget of a high priority shopping campaign exhausts then a medium priority shopping campaign will perform the same as a low priority campaign.
On the basis of priority, you can also priorities you search terms
High Priority to Generic Terms ( Exclude Brand and other irrelevant terms)
Medium Priority to Brands Terms ( Exclude Generic and other irrelevant terms)
Low Priority to Catch-All Terms ( Exclude Generic, Brand and other irrelevant terms)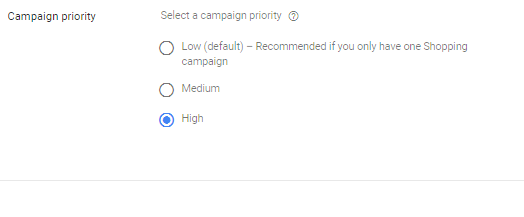 Good thing about using this structure
Easy to set up. Setup the first campaign then copy and change the priority settings and bid.
More control over bidding on higher intent terms such as brand terms or any product-specific search query.
Bad thing about using this structure
Twice as many campaigns to manage and create confusions.
It isn't possible to control search queries at the product level
Segregating the products into one Ad Group in each campaign is a challenge.
Due to poor product groupings within a single Ad Group then Some products will not get exposure or clicks
Harder to find out the Poor performing products then it will difficult to exclude or manage unless you take them out.
3. On the Basis of Profit Margins
This campaign structure is highly beneficial. In this approach, you entail to setting up your shopping campaigns to include product categories based on your product profit margins.
This shopping campaign structure is beneficial because you know how much cost you are able to spend to get the sale for a particular product. Then you can keep an eye on your campaign performance by tracking the amount spent on your particular product.
Good thing about using this structure
More control over bidding on the basis of intent terms.
Concentrate budget and efforts on the campaign who generating the best return
It will improve the profitability of your overall E-Commerce store ad account.
It is possible to set device, location and audience bid adjustments on the basis of different types of search terms performance.
Bad thing about using this structure
Segregating the products in one Ad Group is still challenging.
It isn't possible to control search queries at the product level
Some products will not get the impression or clicks.
Poor performing products are harder to exclude and manage.
Now the case of using multiple ad groups within Google Shopping Campaign
In the above-suggested campaign structure, we go through the outer structure of the shopping campaign by using the single ad group. Now you have to work on how you will structure your ad groups within your shopping campaign.
You can divide up the products by the available Product Grouping attributes by custom labels, product type or by product category etc.
In a small account where no product is less, the Single Ad Group approach can work, but from my experience, it gives you less control over managing products in your account.
So we always recommend you to further segregate your product on the basis of product category, product type or a custom label. It can be by creating further shopping campaigns or by creating an ad group.
Let's discuss what are the disadvantages of one ad group within Google shopping campaign.
In a single ad group within a Google Shopping campaign, you have to subdivide it on the basis of product group attributes such as Brand, Price and Category
Most of the marketer starts with by adding product group divisions and then further dividing products and adjusting bids over time once you have the clicks and conversions data makes sense. But this approach has limitations. Let's brief you about the Disadvantage of one ad group shopping campaign
In one ad group campaign, it's hard to further divide out categories, products, brands, price and IDs is a pain if you have tens of thousands of products.
If there is any update in products than the product SKUs that did well will disappear from product group divisions.
It isn't possible to find what keywords are triggering specific products.
To find out poor performing products is more time consuming with hundreds or thousands of products within one Ad Group.
Some products will not get exposure or clicks.because of an exhausted budget.
Advantages of using Segregated Ad Groups in Google Shopping Campaigns include:
By using this you can reduce in your unwanted clicks and spend more on effectively managing search terms.
Get the granular level of keyword search term queries that are triggering product impressions and clicks.
Preventing feed and product group updation from messing up your data.
Some disadvantages of it as well:
It can take time to get significant click data for bid adjustments or bidding automation.
It can be harder to review, adjust and manage bids when there are hundreds & thousands of product Ad Groups.
It takes a lot of time to split out products. .
Conclusion:
The more granular Shopping campaign or Ad Group structures is then you will automatically get improved or gain performance.