10

min read
Today, you will know everything about google merchant with this guide. Let us divide the whole guide into sections. This will simplify the guide and let you understand in a much better way. This step-by-step guide will help you get all the answers regarding the Google merchant center
What is google merchant center? Why do people create an account on google merchant?
How to set up a google merchant center account?
What are the different programs managed by merchant center?
On what basis is a Google merchant account suspended?
What is Google merchant center? Why do people Create an account on google merchant?
Google merchant center is a tool of Google through which you can upload your store and product data and make it available for shopping ads and other Google services.
Now the question is- why do people use this tool?
For running shopping ads for its product people use the merchant center to upload all information about its product on google.
Now the question arises what are google shopping ads?
Do you know, google shopping ads generate more than 70% revenue for e-commerce stores.
Google shopping ads that are cleared by its name "shopping". This ad display above the SERP with product image, price, and other info. As shown in the above screenshot.
When someone searches for a fruit picker tool then various fruit pickers showing above of the SERP with product image, price, and other info with the help of google shopping ads.
How to set up a Google merchant center account?
I will tell you the whole process step by step that will make it easy for you to understand and follow that.
STEP -1 : CLICK GET STARTED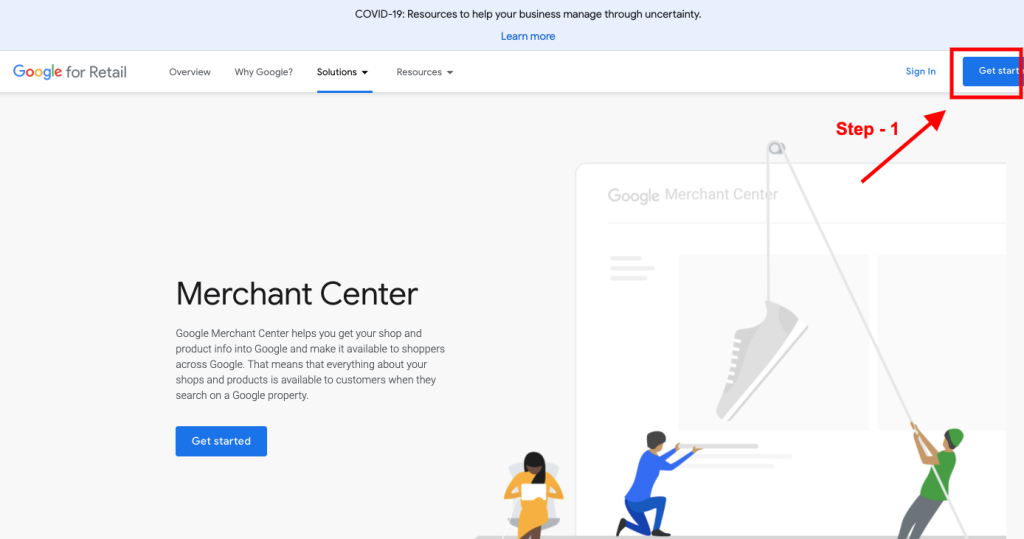 When you will open the google merchant account then the above screenshot will show on your screen.
Click on " GET STARTED" to continue…
STEP- 2 : FILL THE INFO
Fill the information like:-
a. Business Name – ABC Ltd.
b. Country Name – Selection the location where your business is located
c. Time Zone – Select the timezone of your business country
STEP – 3 : If you are using Shopify then choose Shopify option otherwise leave it blank.
STEP – 4: Check and agree to the Google merchant Centre terms and conditions to continue.
STEP – 5: Fill all the shipping and return information as same as on the website.
On the website, if there is a free shipping service going on then fill free shipping in the Google merchant center account as shown in the screenshot below:
STEP – 6 : Fill the sales tax information
STEP -7: Fill all of the business information like business name, address, website URL, etc.
STEP -8 : Link your merchant account with Google ads account.
STEP – 9:- In this step you have to add a product or upload a feed by uploading manually or by content API means automatically.
While uploading manual feed there are many feed rules that you have to follow.
Most of the people in our private group e-commerce PPC secrets asked how we can boost up sales, how to 10x your sales with google shopping feed optimization. Now, this is something a lot of people are basically unaware of because most of them don't know what Google Shopping Feed optimization means.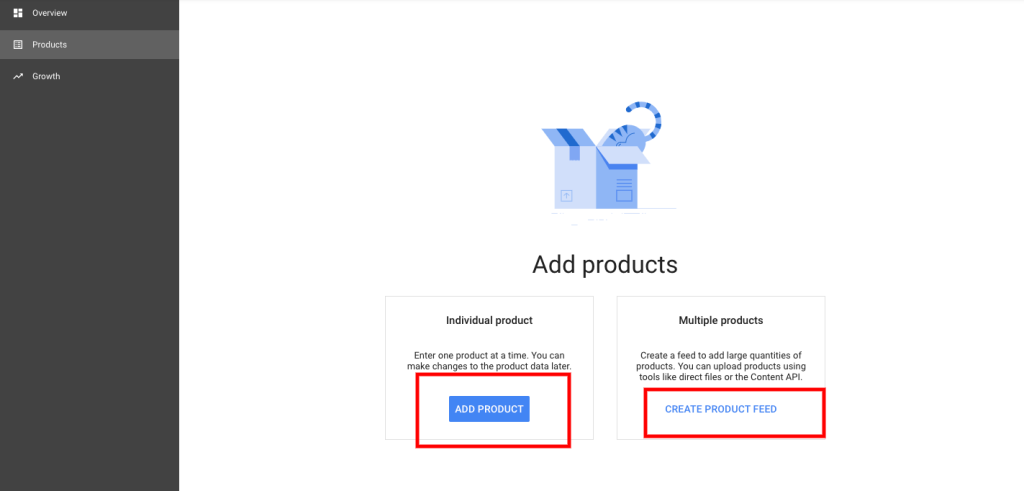 What are the different programs managed by the merchant center?
This is a very interesting section which will let you know about all the programs that are managed by the Google merchant center. Firstly let's talk about all the programs that are currently managed by the merchant center.
A) List your online products for free
Show your products in non-paid product results on surfaces across Google. With this program, you can increase the number of places where your product listings may appear and help users to find the products easily.
Promote your products with images, prices, and product details across Google. You can use Google merchant Center to submit your product data and use Google ads to create shopping campaigns. You can promote your products using images prices and product details.
C) Sell your products directly on Google
You can use Google actions to make your products visible to the people who are in search of a product that relates to yours. It makes a product visible when people are watching a related video, comparing images, talking to the Google assistant or surfing on Google's Universal shopping card.
This drives the customers to your product page and helps instant purchase of your products. This involves a simple product listing process and is a low cost model to increase your product sales.
D) Dynamic Remarketing
Enable product status reporting for products set to serve on display ads, both on the Google Merchant Center dashboard as well as in the product list. You can use this program to retarget the audience by showing the product via an ad in which the user showed his interest.
E) Customer Reviews
Customer Reviews is a free program that lets Google collect seller reviews from your customers and provides you with a seller rating badge to display on your website.
F) List your local products for free
If your business has physical stores, you can show your local inventory on surfaces across Google and shoppers can see what's available in-store. No ad campaign required.
G) Local inventory ads
If your business has physical stores, you can show your product inventory and local stores in your Shopping ads. When shoppers click on your ad, they'll go to a page with your store location, hours, and local product inventory either on your own website, or created by Google.
H) Promotions
Attract more customers to purchase your products. You can put up discounts, free shipping and free gifts. You can do all this with setting up merchant promotions.
These promotions will be visible to people in the shopping ads, free listings across Google and shopping actions. Learn more about how can you boost your ads with merchant promotion?
I) Product Ratings
Add a 5-star rating and review system to your Shopping ads. Displaying product ratings on your ads helps shoppers feel more confident and may help increase click through rates on your ads.
Why is a google merchant account suspended?
Your Google merchant account can get suspended due to many reasons. If you are facing such issues you must check all the reasons one by one to find out the real problem. Fix the issue first and then continue with the benefits of Google merchant ads.
In footer of website all these things information must be here like –
A.) Contact Us page
B.) Refund policy
C.) terms of service
D.) Shipping Policy
E.) If you are mentioning track your order like info in any page then Track your Order must be mentioned here separately.
F) Address Must be mentioned here along with email address.
G) Also add all the logo of card accepted ( Visa, Mertercard )
H) Payment method page
In Contact us page at least one contact email or physical address and phone number must be mention here
If you are using Content API feed then schema should be enable on your website
The shipping info, tax info on merchant must be match with website
Price displayed on the website should be the same with the price uploaded on feed.
Business name, billing country info should be same on both merchant and ads account
Your feed updated date and time must be mentioned on the diagnostic in the merchant center. If not displaying then contact your feed uploader
COVID-19 related content should not be display in product description
Your website URL should be verified
Your checkout must be secure with card or payment gateway logo.
Promotion overlay should not be displayed on any product image.
In case your merchant got suspended due to an untrustworthy issue then contact your web developer to make a secure checkout page.
Conclusion
Now, you know everything about the Google Merchant. You are good to go to create your own account and put up the product information including price, shipping charges and the tax information. Shopping ads are beneficial as it generates more than 70% revenue for ecommerce stores.