Learn How Your Agency Can Obtain Rapid Growth With White Label Ppc
10

min read
We are going to uncover an interesting topic today, that is White label PPC. Do you know the main reason why startups fail? In most cases, they try to be the jack of all trades. They try to master everything in their field and put way too much pressure on themselves than they actually need to.
Why do we need to master something which we can outsource? Why do we need to spend our time, money, and efforts on training when we can get it done by the experts? The answer is we don't have to.
The same goes with PPC, You don't have to be a PPC expert to become a PPC reseller. You can work with a white label PPC agency and get your work done by experts.
White Label PPC
So what exactly is white label PPC?
When an agency outsources their work to another agency to get it done by experts on their behalf is called a white label. The client will stay with the original agency, which they've signed with, and will remain their client only.
In simple words, it's a process by which an agency offers expert PPC Services to its clients through another agency that is working under their umbrella.
Let's understand it with an example.
There are 3 parties involved
White Label Agency
Your Agency
Clients
So basically, clients tell you their requirements and timeframe to meet your requirements. Now your agency might not have the time and human resources to achieve the client's results by that time frame but you can't say no to the client. (Everyone wants more clients to grow, Right?)
So now you need someone to do the work for you, here come the white label agencies. They will work under your umbrella. Your agency is responsible for their actions so choose your white label agency wisely. We have discussed how to choose the right white label agency for you in the later stages of this article.
There are many situations where an agency needs white label PPC, for example:
An agency needs to focus on scaling its business.
When an Agency is looking to minimize the initial investment.
When their client needs high-quality work in a particular area.
When an Agency can't afford to hire expert professionals.
Or when an agency has a huge client base and tons of workload.
Benefits of White Label PPC
White Label PPC is cost-effective because you are not hiring experts for your agency who large a hefty amount of money. You don't have to spend any money on the training part. When you are using white label PPC, you are cutting the costs by a very good margin.
When you know the work is being done by experts, the outcome would be great. They know exactly what they are doing and they have a good idea of how to do it even better so with white label PPC, you can easily meet the expectations of your client.
White Label PPC saves your time & efforts because you don't have to invest your time and efforts in mastering a subject.
Reduce Initial Investment
Initial investments can be a real pain in the ass when you are not a well-established agency so instead of spending money on training and hiring experts, you can easily get experts to do the hard work for you with white label PPC.
As we have mentioned before, when you are cutting down your costs with white label PPC, you are actually preventing the unnecessary expenditure which results in a positive Return on investment.
Focus on Increasing your Business
When you have experts to focus on your client's requirements and they are doing your client's work on your behalf, you can invest that time in generating more business and increasing sales. That's how Whitelabel PPC helps your agency to grow.
What Services are included in white label PPC?
There are plenty of services that are included in white label PPC which depends on the agency you are working with. For example, At ROI Minds, we provide-
Keyword Research
Ad Copy Creation
Ad Copy Testing
Conversion Rate Optimization
Campaign Setup
Campaign Management
Optimized Ads
PPC Audits
Setting up Google Tag Manager.
Conversion tracking setup.
Dedicated call to get every new client onboard.
Analytics and Feedback, etc.
How White label PPC result-oriented?
Do you want to know the quick answer? It's a YES! When the work is taken care of, by the experts, you know for a fact that you will get great results. Being result-oriented is one of the main reasons agencies choose white labels. You have to make a bond/Relationship with your client for the long term and to do that, bring them quality services and results.
And when you are using the white-label, you have a team of professional experts working on your behalf to bring the results you promised to your clients.
White label PPC vs In-House PPC Management
Both have their own benefits but when we are talking about expertise then white label PPC has an edge. Agencies use a white label for mainly two reasons :
When they need experts to work for them without training their employees or hiring new ones.
When an Agency has too much on their plate to handle or a limited time period or a deadline to meet.
So when any of the above two situations arises, agencies choose white label agencies to complete/do the work on their behalf to meet the requirements.
How to choose a white label partner
Choosing a white label agency isn't as easy as it seems. It could end up being a misadventure if you pick the wrong agency for your operations. So keep the following points in your mind when choosing a white label agency.
Whenever you are about to sign with other white label agencies for your projects make sure you go through their portfolio and look at their work done, did they complete the work on time and effectively? So Take your time, Don't rush anything and choose the right agency.
Whenever you are about to sign with other white label agencies for your projects make sure you go through their portfolio and look at their work done, did they complete the work on time and effectively? So Take your time, Don't rush anything and choose the right agency.
Set a meeting with them and discuss their Standard operating procedures. You will get an idea if they are the right fit to be your white label partner.
Don't be shy to ask about their experience in time management because if they fail to meet the deadline set up by your clients then you are the one to face the client and your agency is answerable to the client not them so It's going to hurt your agency's image, not theirs.
Always keep in mind that you are choosing white-label because you need experts to be working on your projects.
Now here is the common mistake by most agencies when they are choosing their white label partner, they look for agencies with the most experience overall and not in a particular niche so avoid making this mistake and you will save yourself from a huge amount of trouble.
How they can help you grow.
Never forget that you are outsourcing your work because you are looking to grow your business and better the quality of services you provide.
If the white label agency you are choosing as a partner can't answer this question by words or actions then they are not the right one for you.
How is client communication handled?
It depends from agency to agency how they handle their communication. In most cases, agencies don't want to give direct access to their clients to white label agencies due to understandable reasons.
But there are certain ways by which your agency and your client can stay updated with the latest without giving white label agency direct access to your clients. These are :
Setting periodic meetings.
A weekly report.
Slack or Skype Group to share all the latest details of the project.
Other types of white label digital marketing services
There are a variety of white label marketing services that you can offer if you are an expert in those fields such as
CRO (Conversion Rate Optimization)
PPC Management (Pay per Click)
SEO (Search Engine Optimization)
Website Designing
Social Media Management
Email Marketing
eCommerce Marketing Platform Management, etc.
Google Ad Case Study
This is one of our case studies where we served as a white label agency for another agency's client.
Here, We are taking a case study of a fresh account that didn't have any Google ad Account data with the new store setup.
We started with CRO (Conversion Rate optimization) like making the product page more engaging by adding some pricing factor, urgency, adding detailed product image and description, optimizing feed title and description with high search volume keywords, and set up the Product feed with all the required attribute by Google Merchant Centre like sale price, product type, custom label, Brand value, etc.
As you know, we don't have any data about their product performance, so we start with setting up the Segregated campaign for all product types separately by assigning a separate budget for each campaign.
Let's Look at the initial performance of the account.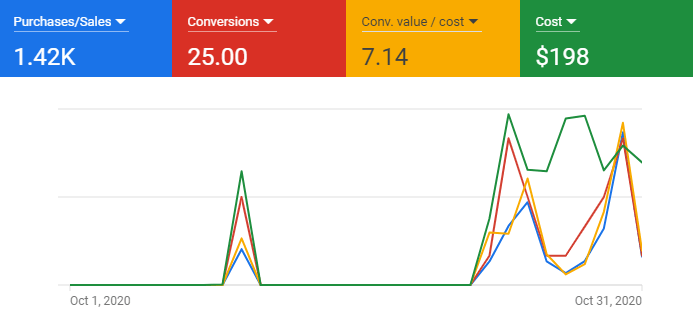 With the help of a segregated campaign for each product type, we are able to find out our low hanging fruits products which are getting high no. sales.
To scale the overall account performance we set up the search campaign by researching the product-specific keywords for our high selling products and we also set up separate campaign shopping campaigns for those high selling products.
After setting up the Audience we also set up the dynamic remarketing campaigns for all our remarketing audiences who left our website without making any purchase.
With this, we are able to target an audience with products in which they are interested.
We also started with the scaling of the budget for campaigns that are giving the ROAs of above 3x.
After the two months of Optimization and account, performance scaling got below results.
Conclusion
Choosing the right white label agencies can bring you fruitful results. When you know your work is being handled by the professionals who are expert in their field will lower your stress and you can focus on generating new business.
So take extra precautions when choosing your white label partner and it's better to be open with them and discuss everything to avoid conflicts later at some point if you are planning for the long term.
We're listening.
Do you have something to say about this article? Don't Hesitate! Share it with us on Facebook, Instagram or our LinkedIn Page.