Scrolling through your Facebook page is used to solely show images and updates from distant cousins, old coworkers, and college classmates. There is much more static to sort through today. Without even mentioning all the paid posts from brands and advertising, our feeds have developed into highly trafficked areas of groups, pages, and news. There is a lot there to focus on. In 2022, a quick glance across Facebook reveals more noise and fewer real connections. Facebook has, in fact, developed into much more than a simple social network. Today's marketplace serves as a sales and distribution route for brands to reach consumers where they are.
Because of this, it's crucial to make sure the creative for your Facebook ads stands out. Your advertising needs to stop viewers in their tracks because it's all too easy to keep scrolling and scrolling.
By 2020, 69% of Americans will have made at least one online purchase. And 59% of these customers made garment purchases, which should delight any owner of a clothes or fashion company. When creating your first fashion advertising campaign, there are a few things to keep in mind if you want to compete with big-name brands.
Advertising expenditures are a significant factor because consumers have a dizzying array of options when purchasing clothing. You should expect to pay between $1.50 and $2.00 on average for a fashion-related keyword. If your website has an average conversion rate of 2%, which means that 2 out of every 100 visitors will make a purchase, you may expect to pay $75 to $100 to bring on a new client.
Are you prepared to investigate fashion advertising tactics to effectively advance your company? For your ease, we've compiled a selection of  Facebook ads for t-shirts from actual companies. See examples of fashion Facebook ads, and learn about their strategies. 
Top 10 Facebook Clothing Ad Samples:
1. Twillory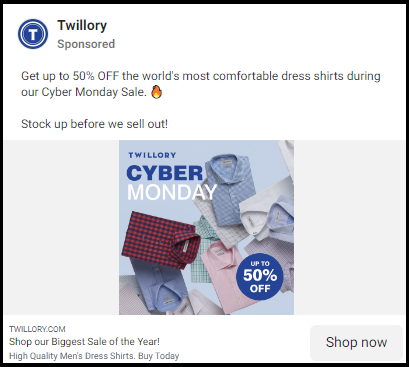 Click on the Ad to Know More>>>
Why This Ad?
The offer of "Up to 50% Off" is clearly displayed in the ad creative to grab the attention towards such a hefty discount.

Multiple products are shown in an appropriate way to let customers know of the choices they have.

This ad creates a sense of urgency in the mind of customers to buy this product with the statements, "Stock up before we sell out!" and "Shop our Biggest Sale of the Year!"
About Twillory
Twillory was founded in 2014 by a group of neighborhood friends and family members with ample experience in the garment industry. It is a performance menswear brand that sells high-quality apparel at reasonable prices and abides by its tagline, "Clothes maintain the man – not the other way around." The brand focused more on client acquisition, revenue, and efficiency when the pandemic was at its peak. And it was when the brand changed its marketing strategy.
The marketing team was able to recognize the creative potential for development and make strategic pivots as needed because of their distinctive synergy between Paid, Social and Creative, as well as their amazing agility. The result is a sizable collection of diverse, high-performing content designed to encourage significant ongoing growth.
Twillory created a product-based campaign structure with one acquisition campaign for each product line to do this, as well as a content refresh cycle. This made scaling simpler because the firm was able to swiftly gather robust key learnings, test various creative formats, and adjust strategy as needed by scaling many products at once with a tailored creative testing pipeline.
The brand produced new campaigns using product-specific lookalikes based on customers who were buying or browsing similar items as soon as new products were available. With a more clearly defined campaign structure based on product segments, Twillory was able to conduct rapid-fire testing across all core items and create creative iterations that made use of different video formats, hooks, and sales sequences.
2. Ministry of Supply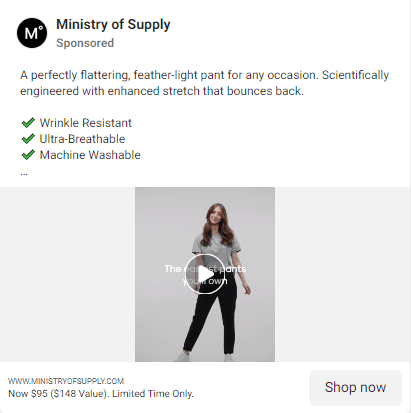 Click on the Ad to Know More>>>
Why This Ad?
In this video ad, product qualities are shown clearly and especially the one women go gaga over – POCKETS!!

This ad uses simple and effective color combinations and plain background so that the product gets all the attention.

This ad creates a sense of urgency with the statement, "Now $95 ($148 value). Limited Time Only" coupled with the CTA button – Shop Now – to instigate the user action.
About Ministry of Supply
Men's and women's radically engineered dress clothing are made by the Ministry of Supply. Their professional, high-performance clothing combines form and function in a comfortable way. Four MIT students from Boston launched the company in 2011. With around 40 staff and seven outlets in the United States, the business has more than doubled in size in the past year.
The company specializes in clothing that employs materials with high-tech performance qualities (such as moisture-wicking, deodorizing, and temperature regulation) to manufacture professional attire (button-down shirts, dress slacks, etc.) for men. This industry segment is known as "performance professional wear."
Although the company has had success raising money and receiving positive press for its innovative product, the unusual combination of features in the product—performance fabrics frequently used in outdoor leisure activities and a professional look and design—has also caused cognitive difficulties in users. And to prove this thing Gihan Amarasiriwardena, one of the company's co-founders, took part in a half marathon and wore one of their performance menswear suits. Though this was a marketing stunt, he set up a Guinness World Record for the fastest half marathon run in a suit.
3. Mott & Bow
Click on the Ad to Know More>>>
Why This Ad?
The offer is precisely mentioned in the creative, along with the required coupon code.

This ad also features different color options for the customer to choose from.

This ad smartly draws attention to its well-known jeans and compares the tee with its comfort level.
About Mott & Bow
Alejandra Chahin established the Mott and Bow Denim brand. In February 2014, immediately following the completion of his master's in business administration, he started a new company. His tale is a compelling one. Alexander, a Honduran native, decided to travel from his home and enroll at New York University as a graduate student when he was just 25 years old.
Alexander Chahin is an expert in the denim garment industry, but as a shrewd businessman, he also recognizes the value of consulting with the top minds in the industry. He tried to create and implement a strategy for efficient online product advertising, as well as to attract target audiences and achieve a high conversion rate among website users. His team was able to raise traffic by 10,000, and this rise persisted for several weeks.
This increased awareness, which informed the female audience that the brand now offers products for women, although it had previously been indicated for guys only, effectively rectified a potential marketing issue. According to a case study, conversions increased by an astounding 300 percent, and ROAS increased by 33%.
The business uses a range of channels for its advertising, such as word-of-mouth, web adverts, and social media. Online news outlets have gathered information about Mott & Bow's outstanding start as well as projections that show a high degree of confidence in the brand's ability to live up to its threat to dominate its sector, or at the very least, compete with the significant heavyweight brands that have been around for decades.
4. Express
Click on the Ad to Know More>>>
Why This Ad?
It is an exciting video ad that uses a meme format and language to add a fun element and grab the attention of the younger generation.

In a single video, multiple products are shown as options for the user to choose from.

With the statement, "For Men Of Mystery", a sense of trying something new is imbibed in the user.
About Express
Established in 1980, Express is an American fashion retailer brand that caters mainly to young men and women. The company plans to fundamentally alter how it approaches apparel, concentrating on a brand created "to encourage confidence and stimulate self-expression" with a more carefully curated selection of clothing that places emphasis on adaptability and novelty. Along with the strategy announcement, a marketing campaign called "Dream Big, Dress Accordingly" was launched.
The modern consumer for a clothing company like Express is more than just socially aware. They are data-overloaded, social, mobile, well-informed, and price-sensitive. The ordinary consumer no longer simply strolls into a store, tries on a few items, and then makes a purchase. S/he puts on an outfit before snapping a photo with the cellphone and sending it to their pals to get their opinions. Because of this, the procedure is more complicated than ever for marketers.
According to Lisa Gavales, CMO of Express, brands who wish to succeed in social media shouldn't measure the success of their initiatives exclusively by the ROI of sales produced by social media.
5. The Thompson Tee
Click on the Ad to Know More>>>
Why This Ad?
In this ad, a confident quote about the product is used to build the trust of the customer.

The choice of the image used in this ad is enough to show the client about the product's usability.

The ad promises the customer to get rid of a problem that is not that much addressed.
About The Thompson Tee
Before attempting to develop an economical and practical remedy for this unpleasant ailment in 2012, the founders had lived with hyperhidrosis or excessive perspiration. The worldwide sales of patented sweat-proof undershirts for men and women are made possible by The Thompson Tee, an online store.
Thompson Tee, like many early-stage businesses, lacked an internal marketing team and a defined strategy for digital marketing.
To create an inbound marketing machine that would continuously generate traffic, leads, and sales for the company, the organization moved toward its present-day marketing strategy. In 2015, the company expanded its internet business.
In order to generate organic authority and traffic, create a conversion-friendly website, and nurture leads and customers throughout their purchase experience and beyond, its marketing team designed a full-funnel digital marketing approach.
6. Rhone
Click on the Ad to Know More>>>
Why This Ad?
In this ad, the offer of a site-wide discount is revealed in a clear and simpler manner.

In the creative, the product is shown in a simple but elegant way to enchant the customer.

The ad promises free shipping for orders above $100, we all know how much the word "free" is loved by the audience.
About Rhone
It's hard to create a brand that moves people. Rhone required that their customer's buying experience accurately reflect the brand's values and inspire a strong desire to buy.
Rhone was founded as a result of the founders' concern with the dearth of premium men's athletic companies available. Their mission is to "inspire one another in the pursuit of advancement," thus they wanted to build a brand that reflected that.
Every Rhone garment makes a reference to this by including their distinctive interlocking thread as "a call for unity in an ever-divided world." "It appears on every piece of apparel we create and is a simple reminder that united we are stronger," the company's founders said. Rhone clearly wants to be known as much more than simply another clothes manufacturer with such a noble sentiment.
They have developed an enduring men's brand with high style and cutting-edge content to represent these shared objectives. Each component was carefully crafted for the daily tasks of the working man who wears it and infused with the advantages of seamless wearable technology, which Rhone continually works to advance. However, achieving such ambitious goals presents the enormous problem of developing consistent, memorable, and high-quality consumer experiences at each stage of the purchasing transaction.
7. Gap
Click on the Ad to Know More>>>
Why This Ad?
This video ad is created in a simple but smart way, and the background is plain so that the products can grab attention.

In this ad, multiple products are shown using nice transitions, and the style statement they make is clearly indicated.

Near the CTA button strip, the phrase "All New" incites in the mind of the audience that they will get a fresh new look.
About Gap
The marketing tactics used by the American multinational retail company GAP are well-known. One of the main reasons the company has managed to stay in the top four fashionable industries in the US market is diversification. It has become one of the best brands in the world due to its emphasis on colorful, youth-oriented clothes.
The clothing line's fundamental tenet was to combine some level of flair alamode with comfort for all age groups. The company committed to creating a collection of jeans. As time went on, both its dedication to overseas clients and demand dramatically increased. The brand's entire focus remained on giving potential customers top specialized clothing materials and designs.
Leading multinational retailer of clothing, Gap Inc. It sells clothing, accessories, and personal care items under the Gap, Banana Republic, Old Navy, Athleta, Janie & Jack, and Intermix brands for men, women, and kids. The brand has a competitive advantage in the global retail market because of its portfolio of distinctive brands that are present across a variety of channels and regions. The gap was established in the early 1970s.
8. Zara
Click on the Ad to Know More>>>
Why This Ad?
This ad uses a great idea of showing products using carousel ads

In a single ad, products related to different categories are displayed.

The ad lets the audience know about the release of the latest styles the brand is well-known for.
About Zara
Zara has established a platform where "no marketing" has increased sales. According to reports, Zara spends 0.3% on marketing versus the 3.5% industry average.
With a contemporary outlook on fashion, Zara places a strong emphasis on reaching out to young people as its primary client base, particularly millennials. Zara shrewdly offers the newest fashions at low prices, realizing that customers demand fashionable clothing that is both trendy and affordable.
Fun fact: This process typically takes months for fashion companies. ZARA, in contrast, has the ability to instantly examine all the data pertaining to its network. This is a result of its expertise and its staff of marketing experts.
This is among the most obvious explanations for why this brand continues to outperform rivals. In fact, ZARA might just need 15 days to present the newest trends in their stores, which will astound you even more. Other businesses will still be investigating them in the meantime.
9. Everlane
Click on the Ad to Know More >>>
Why This Ad?
In this video ad, the offer of a 25% Discount is clearly mentioned in the creatives.

The products related to multiple categories are shown in the ad, implying that the offer is on multiple categories.

The ad provokes the consumer to take quick action since the offer is valid for a limited time only.
About Everlane
"Drive community participation, not sales" is the basic yet powerful social media strategy employed by Everlane. Aesthetically pleasing photos of the brand's products and the process that went into manufacturing them may be found on its Instagram page.
Everlane was founded in 2010 with a clear objective in mind. Michael Preysman, the company's founder, decided to embark on a type of mission to shed some light on the garment industry. He recognised a sector that was ready for disruption by just presenting the truth after conducting some basic research into how, where, and how much it costs to make apparel.
For instance, he discovered that the production cost of a $50 designer t-shirt was only $7.50. The expense of getting the t-shirts to the client drove the increase in price rather than pure demand. Distributors, importers, wholesalers, and other "middlemen" all took a piece. Preysman only needed to discover a means to sell to his consumers directly and then let them know that doing so was the reason Everlane could sell the same high-quality t-shirts for $16 rather than $50. Thus, one of the most transparent brands in the entire world was created.
10. American Giant
Click On the Ad to Know More >>>
Why This Ad?
This ad utilizes an excellent idea to use customer reviews on its creative to build a sense of trust.

This ad features the product by clearly mentioning its qualities in a simplified manner.

The ad prompts the customer to hurry for the product by offering their limited-edition colors.
About American Giant
In 2012, Bayard Winthrop founded American Giant with the firm belief that the apparel market is undefined. There are many middle players, but none of them have strong brand recognition.
The company's guiding principle was that it could attract the general consumer—someone who wanted great quality but wasn't willing to shell out $500 for a single piece of apparel—by offering American-made quality and pricing. The other factor is, of course, that while brands have traditionally been based on marketing and distribution, consumers today have more influence. Therefore, the Internet not only eliminated the need to invest in brick-and-mortar distribution, but it also allowed customers to be more discerning and word of mouth to spread more quickly.
So, paradoxically, new technology has made a return to traditional values possible. Customers may research products on their own and don't need advice from a group of elite athletes. And as is a well-known fact, consumers will support the brands that have personal significance for them.
In order to give its customers simple ways to tell their friends about the company and the items they enjoy online, American Giant created a referral marketing program. Existing customers receive $15 from American Giant when their friends make purchases, and friends get 15% off their buys. Customers can direct recommend businesses to one another through emails or, more widely, on social media sites like Facebook and Twitter. The referral marketing program helps American Giant acquire new customers while also giving the company data on what kinds of products current customers enjoy.
Final Words
With the above set of examples, you have got to see how these big brands market and advertise their products. Since it is a time of digitalization, so you, too, should focus on your online marketing strategies, including Facebook clothing ads, and applying these strategies has never been so easier. How much did you like our information, do let us know. We are all ears for your queries, opinions, and suggestions.
About Author