Are you in the roofing business and eager to expand your client base? Roofing Facebook ads is a potent strategy for connecting with top-quality clients in your local area. If you need more clarification about initiating your marketing efforts, let me guide you on how incorporating Facebook advertising into your roofing company's strategy can substantially enhance your business. 
What Are Facebook Roofing Ads?
Roofers, listen up! Facebook ads for roofing are like paid shout-outs for your roofing company on Facebook. These ads reach specific users based on where they live and their interests, which sets Facebook apart from other ad platforms.
Here's the cool part: you can decide how much money you want to spend and how you want to pay for it—per click or a thousand times people see your ad. Want a tip? The smart move is to focus on local folks who likely need roofing services. That's how you generate leads with Facebook ads for your roofing business. Explore some impressive Facebook ad examples to discover more tips for generating leads.
Significance of Facebook Ads for Roofing Businesses
Hey there! If you're in the roofing business, Facebook Ads can be a game-changer. Imagine them as your billboard, which is way more relaxed and targeted. 
Reaching the Right People:
With Facebook Ads, you can reach the people most likely interested in your roofing services. It's like conversing with people who need what you offer – a win-win!
Budget-Friendly Brilliance:
Forget the big bucks! Facebook Ads won't break the bank. You can set your budget, control your spending, and still get your message out there. It's like getting a great deal on advertising – who doesn't love a good bargain?
A picture is worth a thousand words, right? Well, Facebook is all about pictures and videos. You can use excellent visuals to show off your roofing skills. 
Facebook isn't just about ads; it's a social hub. You can chat with potential clients, answer questions, and get reviews. It's like building a relationship, one click at a time.
Importance of Optimizing Roofing Facebook Ads for Increased Leads
Tailoring your content ensures your message reaches those actively seeking roofing services, maximizing the chances of attracting quality leads. By fine-tuning targeting parameters, you save on costs and focus resources on the audience most likely to convert. These visually appealing ads build trust, showcasing your roofing expertise and encouraging potential clients to take action. 
Embrace a data-driven approach, analyzing performance metrics to refine strategies continually. Optimization is more than a strategy; it invests in efficient spending, enhanced engagement, and informed decision-making. Elevate your roofing ads, making them work smarter to generate increased leads. Explore the power of Facebook ads for roofing companies and witness your business soar in search engine rankings.
Here Are 10 Roofing Ads Examples to Drive Maximum Leads
Uncover the secrets behind these powerful examples, each a testament to effective strategies that captivate and convert. From compelling visuals to targeted messaging, these roofing Facebook ads examples are the keys to unlocking maximum leads. Let's dive into the world of successful roofing advertisements and elevate your approach to driving unparalleled results.
1. Ad Example 1
Creating awareness is critical in boosting your roofing business. Use strategic approaches, like engaging content and targeted ads, to showcase your expertise. Think of it as shining a spotlight on your services. Utilize roofing Facebook ads examples to inspire and captivate your potential audience, making them aware of your business's exceptional value.
Why This Ad?
This roofing Facebook ad example emphasizes the importance of solar roofing, thus creating awareness regarding the benefits of using solar roofing. Additionally, they have used "Learn More" as their call to action button to attract their target audience to avail their services as soon as possible. They have focused on trending solutions that help them beat their competitors in this market.
2. Ad Example 2
Unlock the door to potential clients by offering a free roof inspection. This strategy is win-win: You provide value, and they get peace of mind. Promote this service using targeted roofing Facebook ads with a compelling call to action, inviting your audience to schedule their free roof inspection and experience your expertise firsthand.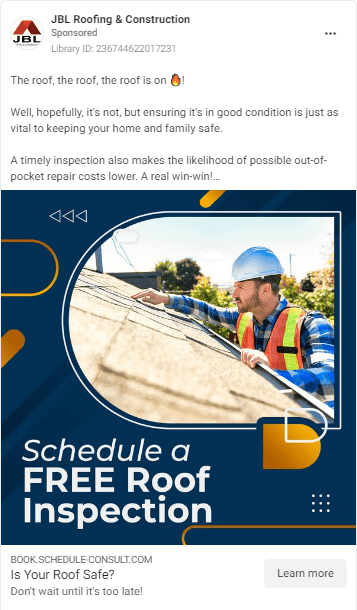 Why This Ad?
These roofing Facebook ads examples use a brand's free service to attract and urge their target audience to use their free roofing inspection service. The free inspection will help build reliability and trust among customers who use their services. It is an excellent way for roofing businesses to stand out in this niche market.
3. Ad Example 3
Adopt a blog-style approach to ease concerns and connect with your audience. Address their queries and doubts through informative content. It's like having a helpful conversation. Supplement your blog with engaging roofing advertising examples to showcase your expertise visually. This strategy attracts potential clients and establishes your roofing business as a trusted source of valuable information.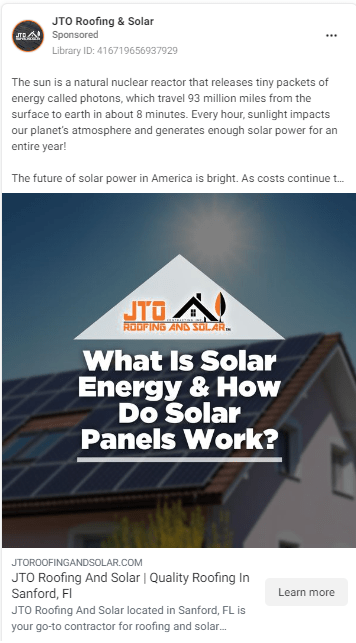 Why This Ad?
This roofing Facebook ad uses a blog-style approach to reach a wider audience. It chooses a trending topic, addresses the most essential aspects, and asks queries about it. This strategy helps build trust and answers all kinds of customer questions, which in turn helps customers build trust and loyalty with the company.
4. Ad Example 4
Build trust effortlessly with the customer testimonial strategy. Let satisfied clients share their positive experiences—it's like a word-of-mouth recommendation on steroids. Integrate these testimonials into your roofing Facebook ads examples to showcase absolute satisfaction. This straightforward approach attracts potential audiences and adds authenticity to your roofing business, making it more appealing to future clients.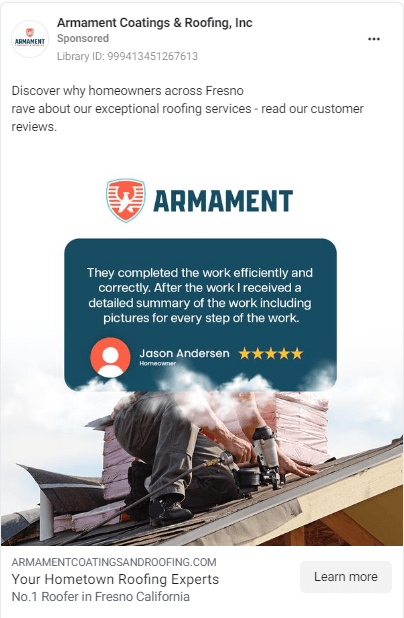 Why This Ad?
This roofing Facebook ad uses customer testimonials as its go-to strategy to attract audiences looking for roofing services and wanting a business they can trust fully and rely on. The brand in the above advertisement satisfies the conditions that its audience requires. In return, it urges the customers to avail of its services. Additionally, the call-to-action button provides ease of navigation for the customers.
5. Ad Example 5
Capture attention effortlessly with the before-and-after images strategy. It's like a visual story—showcasing the transformation of roofing projects. Incorporate these compelling visuals into your roofing Facebook ads examples to offer potential clients a glimpse of your expertise. This strategy attracts audiences and provides a clear picture of the quality and impact of your roofing services.
Why This Ad?
The above roofing business advertisement uses before-and-after images to showcase its perfection and skills and how it helped clients transform the look of their roofs. This strategy allows them to reach a wider audience and provides visual proof of authenticity. In return, it builds a visual connection between the client and the company.
6. Ad Example 6
Lure potential clients with the irresistible strategy of discounts and offers- it's like handing out keys to a treasure trove. Feature these enticing deals in your roofing Facebook ads examples, creating a buzz that attracts audiences seeking quality and affordability. This strategy grabs attention and positions your roofing business as a valuable and budget-friendly choice.
Why This Ad?
This roofing business offers discounts on current market prices to potential clients, which lures clients into purchasing their services and helps them establish a name for themselves in this competitive landscape. The above advertisement emphasizes their discount offer by providing a time limit, urging the audience to purchase their service before the time runs out. 
7. Ad Example 7
Ignite interest with creative display ads- it's like turning heads with a visual masterpiece. Create visually striking elements for your Facebook ads to attract potential clients. This innovative approach not only stands out but has the power to generate leads with Facebook ads, enticing your audience and making your roofing business unforgettable.
Why This Ad?
This roofing business has used Facebook ads to generate leads. With creativity and images that speak louder than words, this advertisement displays a simple yet effective method to attract potential clients to avail of their roofing services. This roofing Facebook ads example looks neat yet conveys the message, making this advertisement memorable.
8. Ad Example 8
Spark excitement by incorporating the giveaway strategy. It's like offering a golden ticket to your audience. Use enticing giveaways in your roofing Facebook ads to grab attention and generate leads. This approach attracts potential clients and creates a buzz around your roofing business, making it an irresistible choice.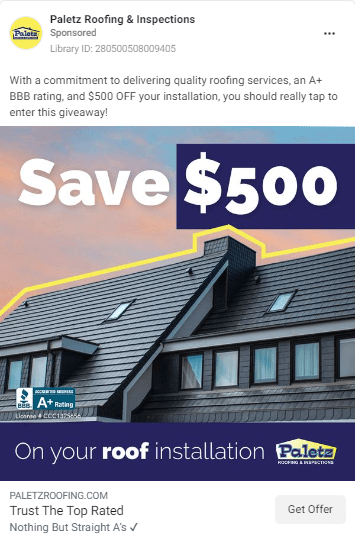 Why This Ad?
The above roofing Facebook ad is advertising a giveaway by providing a discount on their services. It excites the audience and makes them curious about the winners of the above offer. This advertisement helps create a buzz around their business and the quality of work they will provide.
9. Ad Example 9
Embrace the charm of seasonal roofing services – it's like tailoring solutions to the weather's mood. Feature these specialized services in your roofing advertisements, ensuring potential clients know you're ready for any season. This strategy caters to specific needs and positions your roofing business as adaptable and attentive to the ever-changing climate.
Why This Ad?
This roofing Facebook ad focuses on providing roofing services for seasons and changing weather. It shows that this brand keeps itself up-to-date and pays attention to certain minor conditions left behind by many businesses. It helps the clients establish trust and associate with the brand because of its uniqueness.
10. Ad Example 10
Elevate engagement by organizing a captivating contest or event—it's like throwing a roofing party. Showcase these exciting happenings in your roofing Facebook ads examples to entice potential clients. This strategy fosters community spirit and draws attention, making your roofing business an interactive and memorable choice.
Why This Ad?
This roofing ad generates leads using a Facebook ad that shows an upcoming event or a contest the brand organises to attract potential customers and other officials to promote their company and show their skills and services. It creates excitement and is a great way to reach a wider audience. Additionally, they pay respect to the people and are helping their families avail their services. It is also a way to build loyalty and trust between the customers and brands.
ROI Minds – Elevate Your Roofing Business with an Expert Facebook Ads Agency
✨Why Choose ROI Minds?
✓ Specialized Expertise:
At ROI Minds, we specialize in crafting tailor-made Roofing Facebook Ads. Our dedicated team possesses in-depth roofing industry knowledge, ensuring your ads resonate with your target audience.
✓ Proven Roofing Facebook Ads Examples:
Witness the power of effective advertising with our roofing Facebook ads examples. We don't just talk the talk; we showcase accurate results, demonstrating how strategic campaigns can elevate your brand and generate leads efficiently.
✓ Lead Generation Mastery:
Generating leads with Facebook ads is an art; we've mastered it. Leverage our expertise to ensure your roofing advertising lead generation reaches its full potential. It's not just about getting leads; it's about getting the suitable leads that convert.
✨What Sets Us Apart?
✓ Customized Strategies:
We understand that one size doesn't fit all. Our Roofing Facebook Ads Agency crafts personalized strategies to align with your business goals, ensuring maximum impact and ROI.
✓ Transparent Communication:
Transparency is at the core of our values. With ROI Minds, you'll experience clear and open communication. Know exactly how your roofing ads are performing and the value they bring to your business.
✨Results:
✓ Generated Leads:
Our roofing Facebook ads maintained a noteworthy conversion rate, surpassing targets. Most importantly, we generated a substantial 3K+ quality leads, underscoring the tangible success of our marketing plan and showcasing ROI Minds' proficiency in generating roofing leads with Facebook ads.
✨Elevate Your Roofing Business Today!
Partnering with ROI Minds means more than just advertising; it's a journey towards unparalleled success. Let us be the driving force behind your roofing advertising lead generation. Don't settle for ordinary – choose extraordinary results with ROI Minds, your trusted Roofing Facebook Ads Agency. Ready to transform your business? Let's start the journey together. 🚀🏡✨
Conclusion
In the dynamic realm of roofing advertising, leveraging the expertise of a seasoned agency can be a game-changer for your business. Explore the power of proven roofing Facebook ads examples, showcasing accurate results that elevate your brand and efficiently generate leads. Mastery in lead generation through Facebook ads is about getting leads and acquiring the right ones that convert. 
Experience transparent communication, knowing precisely how your roofing ads perform. Partnering with a trusted agency is more than advertising; it's a journey toward unparalleled success in roofing advertising lead generation. Choose extraordinary results, and let the right agency be the driving force behind transforming your roofing business. 
About Author